Living in South Philly, I get a lot of tourists who ask me "where can I get the best Philadelphia Cheesesteak?  Is it at Pat's or Geno's?"  To them I respond with "What the hell kind of question is that!  Neither – forget Pat's and Geno's" and then I lead them to Jim's Steaks on 4th and South.
If you want an overpriced cheesesteak with a free side of diarrhea then please, do go ahead and eat at Pat's and/or Geno's.  Flip a coin, they're both the same greasy slices of questionable steak swimming in what might be cheese or yellow paint (who knows).  However, if you're a good traveler and you want to eat where the locals eat, then go to Jim's.
At Jim's, you are most likely going to be standing in a line that wraps around the building, but fear not, it's totally worth it.  When you finally enter the building, you are greeted by a jolly staff of individuals whose South Philly accents are so bad that even I need to take a second to understand what the hell just came out of their mouths.  But that's okay, it's all about the ambiance and experience of ordering an authentic Philadelphia Cheesesteak.  Everything moves kinda fast, so you need to be quick on your feet to respond with what you want on your steak – are you just doing a steak with American cheese or are you fancy and going to order onions or peppers with that?  Know before you go.
It's like the ColdStone Creamery of Cheesesteaks.  Behind a glass counter you can watch your cheesesteak being made to order.  With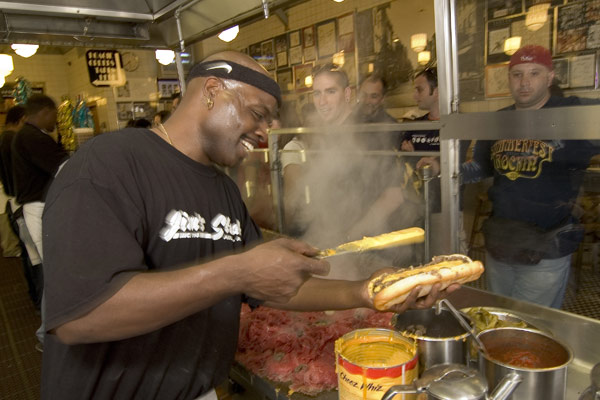 one metal spatula watch the chef chop the steak, grill the steak, and neatly pile the steak in an Italian Roll.
After a very confusing and disorienting ordering process you're free to eat your cheesesteak where ever you please.  I suggest going all the way to the back and going upstairs to enjoy your cheesesteak.  There are plenty of windows for you to look out and observe South Street (believe me, it's a lot to take in) or you can enjoy the decor – a menagerie of autographed photos of every A, B, C, D and XXX actor/actress that has ever passed through Jim's doors.
Cheesesteaks are known for being heart stopping and detrimental to any and every diet (the only exception might be Atkins if you eat it without the roll… lol).  But at least at Jim's Steaks you don't feel like you've eaten anything too greasy.  They're skilled at cooking the steak without too much grease and are knowledgeable enough to provide several cheesy options including real cheese and not just whiz (3 parts plastic one part neon yellow).  Other than cheese and steak (hence the name cheesesteak), Jim's also offers to add in things like sweet peppers and caramelized onions.  Pile it high on a fresh, soft Italian Roll and voilà – you've got an authentic cheesesteak from Jim's Steaks.